Welcome to the Emerald Dragon Arena. I'll let you decided if the dragon head is real or fake. What is defiantly real is the epic battles that take place here. This giant stadium hosts countless death battles, all for the amusement of the queen and her subjects. The stadium is shaded by awnings that are enchanted to resist magic, and circled with tiered standing areas for the common folk to view and cheer on the action.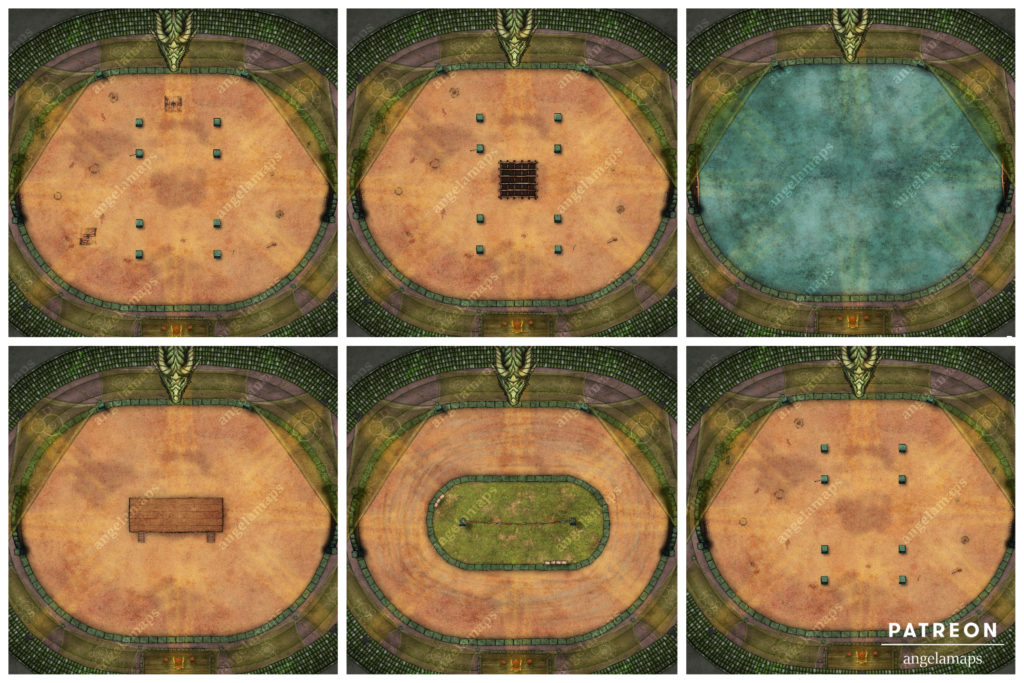 There are 6 of these in total! Three different fighting configurations, one with a stage, one with a race track, and one that is flooded. All of them ready to go in Foundry VTT and Fantasy Grounds.
You may use this map for free in any of your online or offline games. Use the download below with and without grid. You may not sell or redistribute any of my maps.
Get weekly maps without the logo on Patreon.com/angelamaps. Plans start at €3/month and you get new maps every week for personal use and 100s of archived maps. Plus you get to feel good because you helped me to earn a living, and to keep making free maps for everyone. That makes you kinda awesome.
This map is on my Patreon with no logo mark and the Foundry VTT & Fantasy Grounds versions are currently available to my Patrons!